FHSD Announces Sports Medicine and Wellness Partnership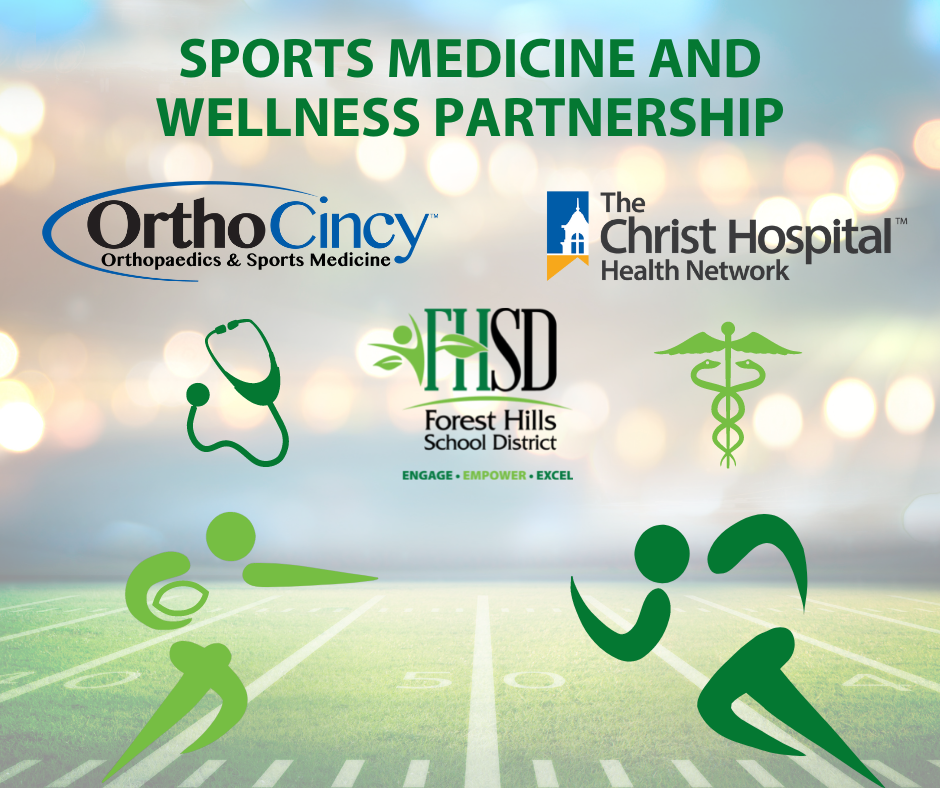 Athletes and students across the Forest Hills School District (FHSD) are now benefitting from a major sports medicine and wellness partnership with OrthoCincy Orthopaedics & Sports Medicine and The Christ Hospital Health Network. The two high-quality, reputable medical care providers are teaming up to support student-athletes through a robust sports medicine program and will also offer experiential learning opportunities.
Under the 5-year agreement with FHSD, OrthoCincy specialists Nicholas Early, MD, Amelia Wiggins, DO and Trevor Wilkes, MD will serve as team physicians. OrthoCincy will also provide certified athletic trainers to work with student-athletes at Anderson High School, Turpin High School and Nagel Middle School. There are currently five athletic trainers in FHSD and all will remain as part of the OrthoCincy team, allowing them to maintain their established relationships and offer a greater continuity of care for the student-athletes.
"We are thrilled to begin this partnership with the Forest Hills School District," said Dr. Wiggins. "Our team has a long standing relationship with these schools, and this new partnership will increase the level of care by focusing on overall physical, mental and emotional health of the students, faculty and staff."
The Christ Hospital Health Network will make annual contributions to support FHSD athletic programs, students, and Faculty to improve their health, wellness and education goals.
"Improving the health of our community is our passion and providing support for health and wellness programs is just one way we try and accomplish that goal. We are excited to support the Forest Hills School District in their efforts to enhance the health of their athletes," said Brian Colley, Executive Director, Musculoskeletal and Specialty Surgery at The Christ Hospital Health Network.
"We are very excited about our new partnership with OrthoCincy and The Christ Hospital Health Network," said Turpin High School Athletic Director Tony Hemmelgarn. "We welcome back some of the great doctors we have worked with in the past. Our Students, coaches and families will benefit from OrthoCincy's intentional focus on our needs and those of our entire Spartan Family."
OrthoCincy and The Christ Hospital Health Network will provide opportunities and assistance for students who desire to learn about various aspects of health care, including, but not limited to, mentor programs, observation opportunities, guest speaking engagements, scholarships and financial support of the education foundation.
"We are excited about the opportunities this partnership with OrthoCincy and The Christ Hospital Health Network provides students," John Eckert, FHSD Director of Business Operations, said. "We look forward to growing this relationship to positively impact as many students as possible, through both academics and athletics."
Finally, OrthoCincy will offer the opportunity for free, one-day, walk-in sports physicals annually to student-athletes as required by the Ohio High School Athletic Association.
"Nagel Middle School is extremely thankful for our partnership with OrthoCincy and The Christ Hospital Health Network," said Zach McCormick, Nagel Athletic Director. "These great partners have already come up with innovative ways to help the students of Forest Hills. Their willingness to be proactive with our student-athletes is something that we will all benefit from and why I am extremely excited to get to partner with them."
OrthoCincy and The Christ Hospital Health Network are now the exclusive health care providers for FHSD athletics and this incredibly valuable partnership will be highlighted through signage across district facilities, in-game and event announcements, district-wide communications, social media and more.
The contract was approved by the FHSD Board of Education at its June meeting, and the partnership became effective July 1, 2022.