The FHSD preschool program is designed to meet the diverse needs of all students by creating an engaging community of learners ages 3 to 5 years old.
All school districts are required by federal law to provide special education and related services for preschool-age students that are identified with a disability. The Forest Hills Preschool Program integrates preschool students that are typically developing (peer models) with children that have identified needs and require an Individualized Education Program (IEP).
Peer Model Information for the 2023-2024 School Year
The Forest Hills Preschool Program uses an online application and lottery system for Peer Model acceptance into the Preschool Program. There are currently limited openings for the 2023-2024 school year. Please complete a Peer Model Application to be considered for Peer Model placement for the 2023-24 School Year.
Details of a Peer Model Program:
Peer Models have the opportunity to interact with children with a variety of needs. Our experiences indicate that the children learn compassion, empathy, and the ability to accept/celebrate differences and similarities among all their peers in the classroom.
Children with special needs learn through observation, practice and modeling the behavior of their peers. Peer Models provide an example of age-appropriate skills in social, behavior, play, speech, language and motor skills.
Your child must meet the Peer Model Criteria (listed below) to be accepted as a peer model. If your child's application does not meet the criteria below, you will be notified by the Preschool Case Coordinator and will be encouraged to apply to a community preschool program/daycare. If you have concerns regarding your child's development after reading the Peer Model Criteria, please contact the Forest Hills Preschool Administrative Assistant, Alysson Beck, at 231-3600, ext. 2950. Forest Hills School District is committed to responding to your concerns.
Peer Model Admissions Criteria:
The child will be 3 years old by August 1st of the enrolling year.
The child is completely potty trained, meaning he/she wears underwear and does not have daytime accidents.
The child is able to follow rules, routines and can attend to activities for approximately 5 minutes.
The child's speech is clear and understandable by unfamiliar adults.
The child is able to play with a variety of toys appropriately and can play beside and/or with other children while sharing the same bin of toys.
The family does not have any concerns with the child's speech/language, social-emotional development, motor development, cognitive or adaptive behavior.
Additional Information:
The Forest Hills Preschool Programs are located at Sherwood Elementary School.
Preschool classes meet Monday through Thursday.

AM Session: 8:45 a.m. to 11:30 a.m.
PM Session: 12:30 p.m. to 3:15 p.m.
Peer Model Tuition will be $2,208.00 for the 2023-24 school year. Upon acceptance into the Preschool program, a $100 non-refundable deposit for processing the registration papers and to hold the student's spot is required. This will be applied to tuition. The remaining tuition will be paid in four quarterly payments, $527 due August 15, 2023, $527 due October 15, 2023, $527 due December 15, 2023, $527 due February 15, 2024. Payment must be made through our district payment system, PaySchools Central.

All preschool teachers hold a minimum of a bachelor's degree and are licensed to provide services for both regular education and special education students.
The Forest Hills Preschool Program curriculum is aligned to the state of Ohio Early Learning and Development Standards.
The Forest Hills Preschool Staff is knowledgeable about Forest Hills School District kindergarten expectations and kindergarten readiness skills. All learning opportunities are designed to help prepare children to enter kindergarten ready to learn.
Transportation shall be listed as a related service on a preschooler's IEP if the IEP team determines that transportation is required for the child to access and benefit from special education.
Parents of peer model students are responsible for providing transportation for students.
If you are interested in having your child attend the Forest Hills Preschool Program as a peer model and your child meets all the Peer Model Criteria (listed above), please complete a Peer Model Application.
Please contact Bradley Early, Preschool Administrator, bradleyearly@foresthills.edu, at (513) 231-3600, ext. 2253 with any additional questions.
Age Requirement for Children with Special Needs:
Students with identified special needs must be 3 years old before they can begin to receive Special Education and Related Services. The Forest Hills School District provides a continuum of services based on your child's needs. Services may include individual or group intervention supports (e.g., speech, occupational therapy, physical therapy) or participation in our center-based preschool program. These services will be determined at your child's Individualized Education Plan (IEP) meeting. For questions, please contact Forest Hills Preschool Administrative Assistant, Alysson Beck, at (513) 231-3600, ext. 2950.
Pay Tuition and Fees: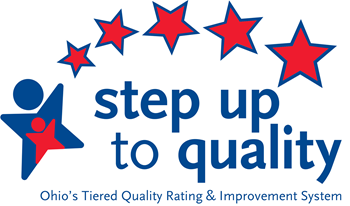 The Forest Hills School District Preschool Program is Recognized for Excellence
Sherwood Elementary School has received the 5-Star Step Up To Quality Award from the Ohio Department of Education and Ohio Department of Job and Family Services. Step Up To Quality is a rating and improvement system. The system recognizes and promotes learning and development programs that meet quality program standards that exceed preschool licensing and school age child care licensing health and safety regulations. Step Up To Quality program standards are based on national research identifying standards which lead to improved outcomes for children.
Preschool Guide and Additional Resources:
Below is the link to a Padlet which is an online storage tool for information. The Padlet contains various information (such as the Preschool Program Guide, medical forms, school calendar, and school supply list) and support resources for families (such as developmental resources, visual supports, and the contact information to the Parent Resource Coordinator).
Healthchek
Healthchek is Ohio's Early and Periodic Screening, Diagnosis and Treatment Program. It is a service package for babies, kids and young adults younger than age 21 who are enrolled on Ohio Medicaid. The purpose of Healthchek is to discover and treat health problems early. If a potential health problem is found, further diagnosis and treatment are covered by Medicaid. Healthchek covers ten check-ups in the first two years of life and annual check-ups thereafter and offers a comprehensive physical examination. You can read more information here.
Head Start
The Hamilton County Educational Service Center operates a Head Start Preschool at Mercer Elementary for children ages 3 – 5 years old. Full day classes are taught by qualified early childhood teachers and are intended to help children enter kindergarten ready to learn. Nutritious meals and snacks are provided as a component of this comprehensive program. The program is no cost to families who qualify by one of the following ways: meeting certain income requirements, receive TANF (Temporary Assistance for Needy Families), receive Social Security Income, or provide foster or kinship care. For more information and to enroll, call HCESC at (513) 674- 4329 or visit HCESC Headstart.
New Preschool Rules Requirements
The new preschool rules (OAC 3301-37) state that "In ensuring that a continuum of alternative placements is available to meet the needs of children with disabilities for special education and related services, a school district shall annually prepare, post publicly, and make available to parents during the evaluation process; a list of the available preschool education service options in the community. This list shall not be limited to service providers within the geographic boundaries of the district but shall include providers outside the limits of the school district boundaries that may be more easily accessible to children with disabilities living within the boundaries of the school district. This list shall inform the discussions and decision on the appropriate placement of each child with a disability."
Therefore, the Forest Hills School District is meeting a mandate in the Ohio Preschool Rules by identifying community preschools, within and outside of the district boundaries, which are easily accessible to district families. This posting is not an endorsement of any particular community preschool nor does it constitute a placement decision if a parent elects to send their child to a school included on this list.
To conduct your own web search you can utilize this link: Find Child Care
Some of the available preschool services options in our community include: Community Preschool Programs
Contact Us!
Forest Hills School District
7946 Beechmont Avenue
Cincinnati, Ohio 45255
Please contact Bradley Early, Preschool Administrator, bradleyearly@foresthills.edu or (513) 231-3600 ext. 2809 with any concerns.