FHSD Inclement Weather Plans 2023-2024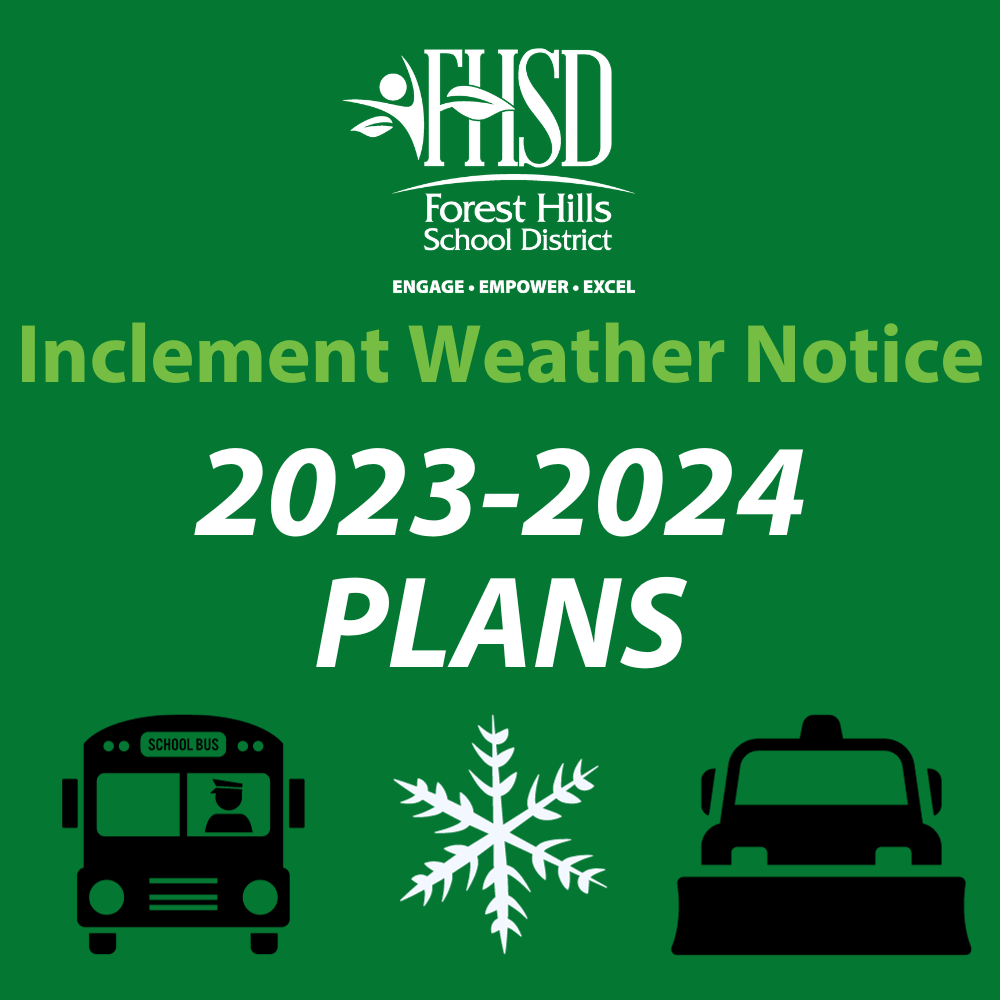 Superintendent Larry Hook shared the following message with Forest Hills School District families and staff members on Monday, November 20, 2023. The purpose of the message is to provide information about the district's inclement weather plans for the 2023-2024 school year.
Dear Forest Hills Families,

As we head into colder months, our school district is preparing for the possibility of school delays and closings due to natural elements, hazardous road conditions, power outages or other issues related to inclement weather.

The decision to delay or close school is made with the safety of students, parents and employees in mind. One of the district's core commitments is to provide a safe and secure learning environment for everyone in our schools. With winter weather approaching in the coming weeks and months, now is a good time for families to begin thinking about alternate plans for children should school need to be delayed, dismissed early or closed.

Our team works hard to monitor weather and road conditions when making a determination to delay or close school. To help assess those conditions, FHSD employees personally drive district roads, confer with municipal road crews district-wide and consider local meteorology reports. We know students are better served academically when in school, but safety is our top priority.

Should there be a need to close schools, before and after school care programs facilitated by the YMCA will be cancelled. All extracurricular activities will be cancelled, unless otherwise communicated.

If there is a need to delay the start of school to allow time for streets and parking lots to be cleared of snow, ice or debris, school buses and schools will operate on a two-hour delay. To simplify the process and avoid any confusion, FHSD will not implement one-hour delays this school year.

Click here to view the inclement weather chart for detailed information about schedule changes for possible scenarios.

When schools are delayed or closed, parents of FHSD students will receive a phone call and text message on the number provided to us. In order to receive text messages, you will need to opt in to the service. Please reply to this email* if you need additional information. If your phone number has recently changed, please notify your child's school. Closings and delays will also be communicated on the district website and official FHSD social media accounts.

If you have any questions, please do not hesitate to reach out.

Sincerely,

Larry R. Hook
Superintendent
*Questions regarding the district's SMS text alert system can be directed to the Communications Office by calling (513) 231-3600 or emailing contact@foresthills.edu.