Board Meeting Recap for November 2023
Forest Hills School District is utilizing these articles as a way to communicate specific action taken at regular Board of Education meetings throughout the year. The Board of Education met on Wednesday, November 15, 2023 at Mercer Elementary School to discuss a variety of topics relevant to students, staff and the community.
The official agenda and related attachments for this meeting can be found on the FHSD BoardDocs page here. You can watch a full recording of the meeting on YouTube here.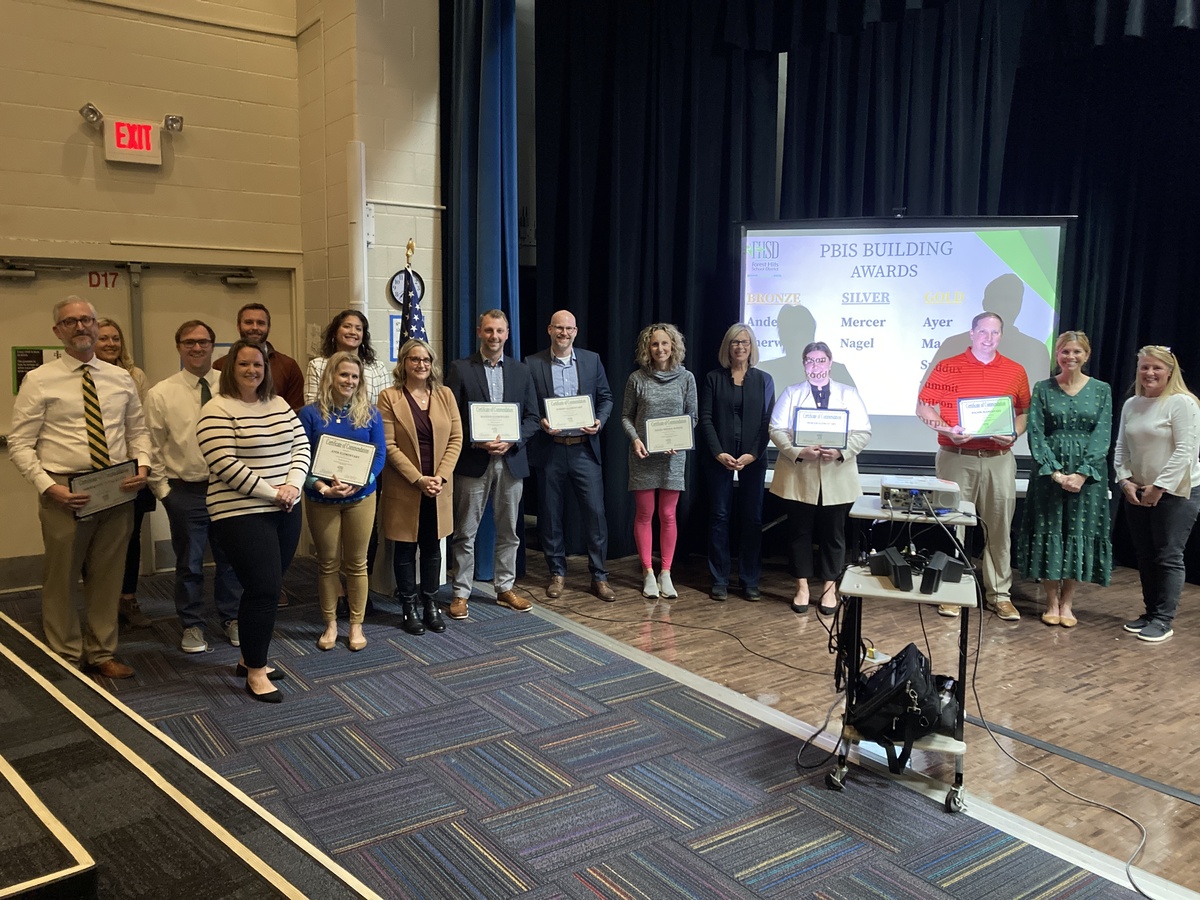 Special Recognitions
Assistant Superintendent Kim Tinsley celebrated all nine school buildings for earning recognition this fall from the Ohio PBIS Network and Ohio Department of Education. The schools were individually recognized for the "​​quality and fidelity of PBIS implementation." This is a significant achievement and a strong testament to Forest Hills School District's commitment to Positive Behavioral Interventions and Supports.
PBIS is a preventative and systematic approach that emphasizes the high-quality implementation of evidence-based practices, use of data-based decision-making and organization of supports to help all students experience success. PBIS has been shown to improve student achievement, student behavior and school climate. You can read more about this recognition here.
The Forest Hills Foundation for Education thanked the community for its support of the annual Fall Soiree. The fundraising total is still being calculated, but Executive Director Stacy Gillard said the event was a major success that will support several key areas including STEM programs (science, technology, engineering and math), sustainability and school-based Child Focus therapists. You can learn more about the organization and its commitment to students and public education by visiting fhfe.org.
Superintendent Update
Forest Hills School District Superintendent Larry Hook began his update to the Board of Education with a shoutout to teachers, counselors and all staff members for their hard work this school year. The superintendent acknowledged their efforts to provide the best possible education to students in Forest Hills. He also recognized all six elementary PTAs and PTOs for their organization of the annual walkathon events. The walkathons serve as critical fundraisers for the PTAs and PTOs, which support student activities throughout the school year. Superintendent Hook thanked all of the parents, guardians and community members who donated to support these initiatives.
Additionally, Superintendent Hook congratulated the Forest Hills Marching Band for achieving a "superior rating" at the OMEA state competition. He also recognized Turpin Spartans athletics for leading the ECC so far in the annual rating system that accounts for all sports. Superintendent Hook also wished the Anderson Raptors football team luck in the regional final this Friday.
To close out his update to the Board of Education, Superintendent Hook recognized Wilson kindergarten teacher Mrs. Michele Hicks, who was awarded the Local 12 Educator of the Week honor. Mrs. Hicks will be retiring at the end of the 2023-2024 school year, but Superintendent Hook said she will always have a place to substitute or volunteer at FHSD. You can watch the Local12 story on their website here.
Board Action
The following items were included in Board Discussion during the November meeting and were approved in separate votes by the Board of Education.
14.1 Budget Hearing/Organizational Meeting - Set Dates for 2024


This item approves the budget hearing and organizational meeting date of January 4, 2024 at 6:30 p.m. at Mercer Elementary School. The purpose of the organizational meeting is to elect a president and a vice president and finalize a schedule of regular meetings for the 2024 calendar year.

14.2 Legal Settlement Agreement


The Board unanimously voted in favor of this resolution that approves a legal settlement for litigation involving Forest Hills School District and Performance Construction. You can read the resolution here.
The following joint public statement was issued by both parties upon the Board's approval of the agreement:


"Forest Hills School District and Performance Construction announce the resolution of their dispute over work relating to the Anderson High School – Building Additions and Renovations Project. This resolution concludes the lawsuit that has been pending before Judge Heekin in the Hamilton County Court of Common Pleas since 2019. The parties involved are pleased to have resolved their differences and are grateful a final resolution was reached without further cost, expense or delay."
Consent Agenda
The Board of Education often reviews and votes on a variety of actions that impact different departments throughout the school district. The following action items presented by department representatives were voted on together as part of the "consent agenda." For specific information about any of the following items, you can find the meeting agenda and attachments here.
Items 8.1-12.4 (detailed below) make up the consent agenda and were approved by the Board of Education.
Business Operations
9.1 Resolution Declaring Impractical Transportation for Certain Non-Public Schools (Revised)


This resolution lists certain non-public schools where transportation has been declared impractical. Families of students attending those schools will be offered payment in lieu of transportation, pursuant to state law. You can read the resolution here.

9.2 Resolution Authorizing Purchase of School Buses


This resolution approves the purchase of two accessible school buses and one typical school bus at a total cost of $421,403.00. You can view the resolution here.

9.3 Request to Advertise for Bids


The administration requests permission to advertise for bids for the stated project: Lighting Rack - Turpin High School.

9.4 Request to Advertise for Proposals


The administration requests permission to advertise for proposals for the stated project: Lawn Care Service - District-Wide.

9.5 Resolution Anderson Turf and Track


This resolution allows FHSD administration to proceed with the replacement of the Anderson High School Turf and Track via a Consortium or Formal Bid Process. You can read the resolution here.
Teaching and Learning/Curriculum
10.1 Overnight Field Trip Requests


This item approves an overnight field trip requested by Anderson High School. You can view the requested trip here.
Teaching and Learning/Student Services
11.1 Clermont County Educational Service Center


This resolution of intent supports the placement (per IEP) of a special education student. The cost is $228.33 per day/$39,729 annually, prorated based on start date. You can read the resolution here.

11.2 Learning Center at North Norwood


This resolution of intent supports the placement (per IEP) of a special education student. The cost is $57,534. You can read the resolution here.
Committee Reports
Board Members provided updates on the committee meetings listed below.
Policy Committee


Board President Linda Hausfeld presented the NEOLA policy updates from Volume 42, No. 1 and those updates were brought to the Board for a second reading. The Board voted to approve these policy updates, which you can find here.

Technology and Facilities Committee


Board Member Bob Bibb updated the full Board about the Technology and Facilities Committee Meeting, which was held on October 24, 2023. The meeting discussed the five-year capital plan assessment, facility improvements and a general technology update.
Approved Minutes
The Board of Education approved minutes for the following meetings, which you can view by clicking the link associated with each meeting. After clicking the appropriate link, you will need to then click "View Minutes" under Agenda Item Details, next to the category titled "Minutes."